Question
How to configure the CT scan of the MatriXX in the Treatment Planning System (TPS) in order to use it in myQA Patients?
Answer
After the MatriXX and Phantom was scanned please import it in the TPS and give it a reasonable name, e.g. IBA Miniphantom or MatriXX Miniphantom. In order to configure the CT scan correctly please follow the next steps
Step 1
Open the CT and understand how the TPS deals with artificial materials and electron/ mass density assignment.
Step 2
Create an external contour for the Phantom. Do not rely on the auto-contouring tools in the TPS for external contours.
Step 3
Create at least 2 structures in the CT ( top and bottom parts of the MiniPhantom) for the density overrides. Additional structures for the density overrides (Matrixx housing absorber top, detector override) can be created optionally.
In case you do not know which values to choose for the override please refer to the article: "How to perform the density override for the MatriXX and MiniPhantom in Eclipse/ Monaco?" under Radiation Therapy - Patient QA.
Step 4
Verify dimensions of the phantom and structures created.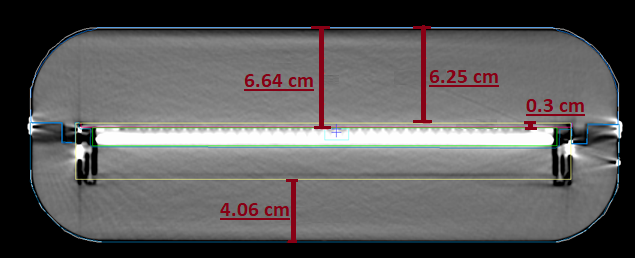 Step 5
Create the isocenter point (same as effective measurement point for low energies and/or perpendicular QA delivery options). For high energies (15 MV and above) effective point for the dose comparison would be shifted approximately 1.5 mm towards the posterior direction.
Step 6
Select calculation grid of the QA plan (as a rule of thumb equal or less than typical plan calculation grid size) and perform single field plan calculation to verify the radiological depth defined by the TPS vs. the depth defined by the density overrides from the MiniPhantom surface to the effective measurement point. A grid size corresponding to the minimum difference between the values shall be used for the QA plan calculations.
Step 7
Create a verification plan for a patient on the CT of the MatriXX and MiniPhantom. Deliver the plan and check the results.