Question
What is the CAX Measurement feature in myQA Accept?
Answer
The CAX Measurement feature in the myQA Accept software aids in correcting the physical chamber setup prior to collecting any data. In utilizing this method, the physical chamber setup is corrected instead of manipulating the data post scanning. The process is outlined below:
Step 1
Using the Hand Pendant, define the ISO center and Water Surface as accurately as possible before leaving the treatment room.
Step 2
Within the myQA Accept software, navigate to the Measure tab and choose CAX Measurement option.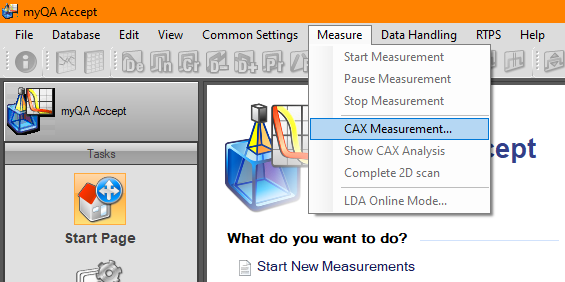 Step 3
A pop-up window will appear. Ensure the correct settings are defined here prior to clicking the OK button.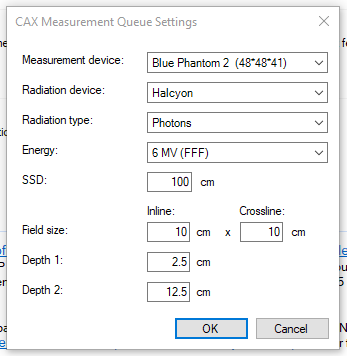 Step 4
Next, you will be in the Queue Setup section. Ensure the Queue settings match your current setup at the top portion of the screen prior to proceeding.

Then, ensure the icons in the Controller panel section are all green.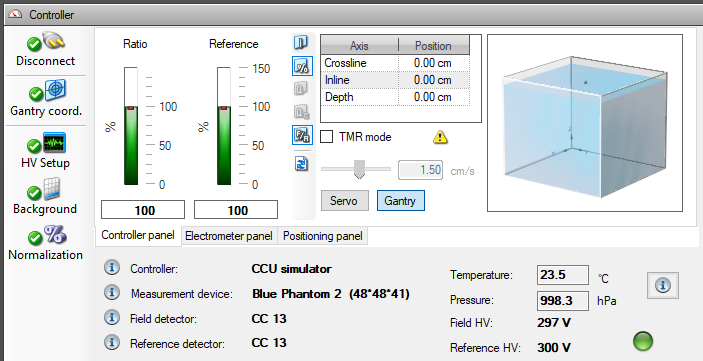 Once these have been confirmed, click the Start button to begin the measurement queue.

Step 5
After the queue finishes, you will be presented with the pop-up shown below outlining the results. Once you finish reviewing this data, simply choose Exit to finalize the process. *Please note, this tool cannot compensate for any angular deviations found*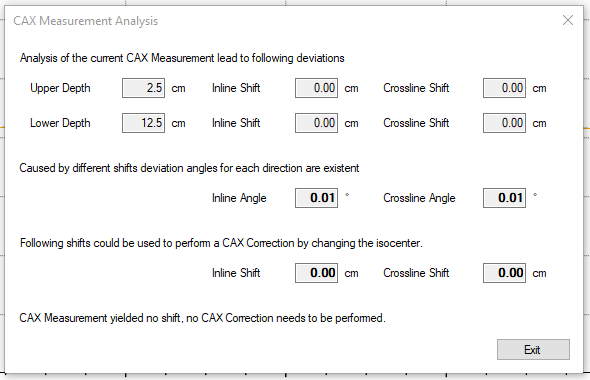 Step 6
Upon the completion of CAX Measurement process, you will have defined a new Isocenter position to be used for the duration of the current scanning session. Should the CCU be powered off for any reason, a new CAX Measurement would be needed.