Question:
My BP2 hand control displays asterisk ( *** ) instead of sensor position like below, what can I do?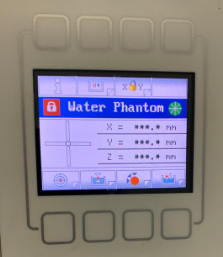 Answer:
If you see your hand control displays, please follow below steps for troubleshooting:
Step 1
Check the pins of two cables:
control cable (between CCU and water phantom)
hand control cable (between hand control and control box on the phantom, there are 4 pins in the connector)
if you see any damage there, please contact IBA dosimetry service for cable repair
Step 2
Check the firmware version hand control, the latest version is 6.01, if it is not the latest, upgrade firmware to the latest. You can find a detailed step in How to update firmware for CCU and hand control?
If still no help, go to step 3.
Step 3
Connect water tank to your PC, are you able to control sensor movement via myQA accept software?
If yes, most likely only the hand control is damaged; if no, the i buttons in the control box are damaged. In either case, please contact IBA dosimetry service for repair.