Question
How to measure a long plan in myQA Patients? How to combine two fields/measurements?
Answer
The Combine Fields wizard, which combines two fields in the inline direction, enables performing Patient QA for large fields.
For a field larger than the detector sensor area, two measurements are taken, an upper and a lower section, with a small amount of overlap to ensure full coverage. The two field sections are combined into the complete field by applying the Combine Fields wizard.
The values in the overlapping area are the average values of the two measurements:

Example of a measurement:

The "+" indicates the isocenter of the combined fields. In this example, the isocenter is aligned to the third row of the sensors from the edge of the MatriXX Resolution detector:

Here the workflow in myQA Patients:
Step 1
Open Verification Compare > Project Explorer and open the folder that contains the two images to be combined.
Step 2
Select the two images, right-click, and then select Combine Fields in the opened the context menu. The Combine Fields window opens. The image selected first, e.g., (1), is loaded as the lower part of the field, and the image selected later (2) is loaded as the upper part and is automatically rotated 180° assuming the detector orientations of both lower and upper field are set to 0° (4) in Measurement Configuration: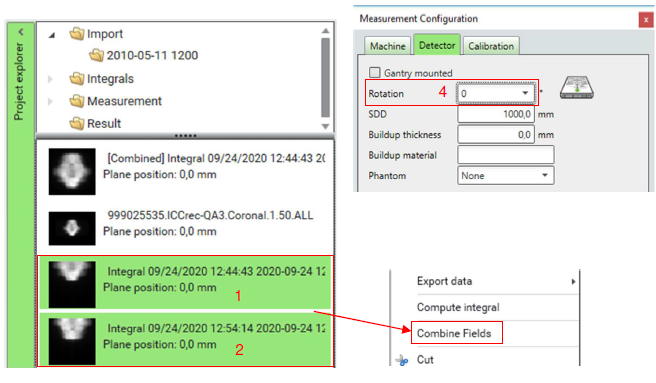 Step 3
The combined field (3) is generated according to the parameters defined in the Combine Fields window: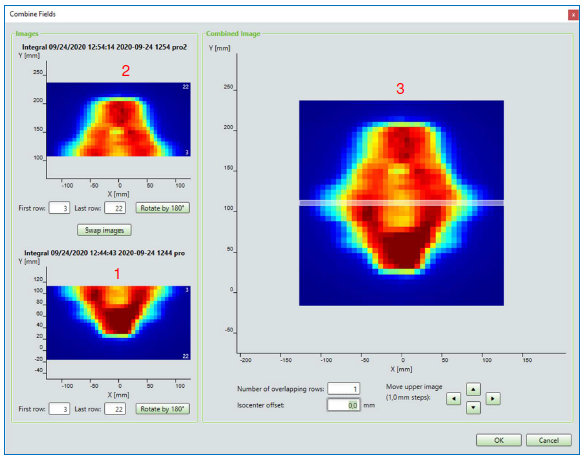 Step 4
Set the parameters according to your setup.
At least one overlapping row is required to ensure the quality of the combined image.
Step 5
Compare the measurement of the combined fields in Verification Compare as usual: