How to perform a zero positioning with the BluePhantom2 / SMARTSCAN Phantom?
Various events can cause the mechanics to have an incorrect Zero Position. The zero position is important as the scan range is based off of this value. To verify/correct this
Step 1
As a first step, move all axis of the phantom as close as possible to the zero position of the metal rulers.
Step 2
Push the second (from the left) softkey button on the remote control to open the Zero Position menu.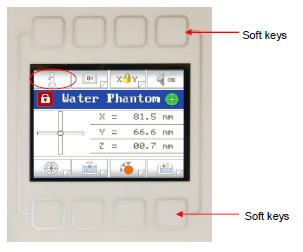 Step 3
Press all three icons at the remote control to set a new zero position for the sensors. The positions displayed on the remote control screen will change accordingly from the previous position value to zero. The position value of the TMR probe (button W) should be ignored at this point.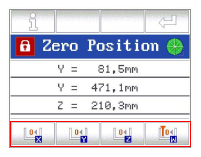 Step 4
When it is impossible to reach the real zero position of the axis at the first time, repeat the procedure and move the mechanics to the real zero position indicated at the rulers.
Step 5
Verify that the positions of the position markers at the Blue Phantom2 axis are the same as the positions displayed on the remote control.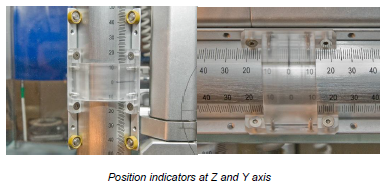 Step 6
Finally, move each axis with the remote control the end positions in both directions. If the zeroing has been performed correctly, the slider should stop automatically before it moves against the bumper at the end of the axis. Should the slider move against the block (visual or by sound), the zero position needs to be reviewed. The margins / tolerances for the zero position are very small and the position indicator at the axis should match exactly to the zero markers at the ruler. Repeat the zeroing procedure and test on demand.
Step 7
After this final review, leave the zeroing menu at the remote control by pressing the return button in the top right of the Remote Control.