Question
How to mount the Gantry Sensor + holder for Halcyon/Ethos machines?
Answer
To enable use of the Gantry Sensor + (GS+) with a Halcyon/Ethos machine (HAL), a holder has been designed to securely place the device inside the machine. The HAL GS+ Holder is intended to hold the base plate and angle sensor on the back side of the HAL.
Example of holder inside a machine with GS+ attached: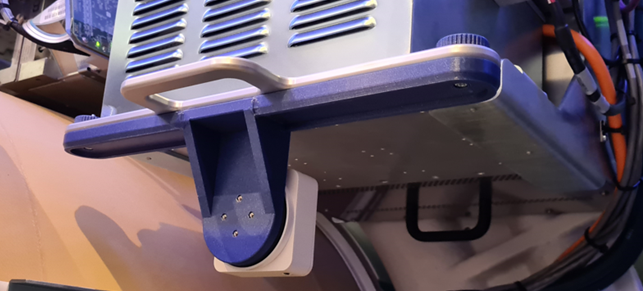 The HAL GS+ Holder consists of:
Homogeneous holder with Base plate extension.
Fixation screws (

1

)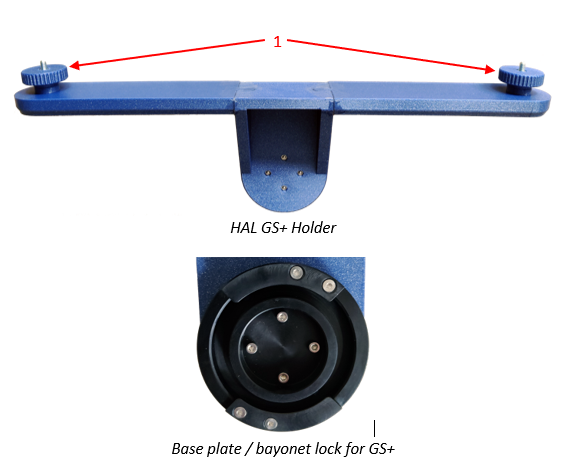 To install the holder and GS+ in the HAL:
Drive the HAL gantry to 0 degrees.
Open the HAL door and set the brakes.
Remove the HAL GS+ holder fixation screws from the holder.
Place the HAL GS+ holder on the bottom part of the SSMM Power Box Bracket, with the GS+ base plate extension facing down.
Insert both fixation screws in the SSMM Power Box Bracket holes and tighten them, ensuring the holder is securely affixed to the machine.
Attach the GS+ to the base via the bayonet lock to the HAL GS+ Holder. Ensure that the switches of the GS+ are on the bottom side.


Switch on the GS+.

Note: The GS+ will stay on the whole time.

Close the HAL door.

To remove the HAL GS+ holder, simply reverse the installation steps.
Please see a mounting video here:
Please see a dismounting video here:
How to exchange the batteries of the GS+
Unlock the GS+ from the base plate extension on the holder.
Remove the side screw with an Allen wrench and remove the front cover.
Exchange the batteries.
Use only alkaline-manganese batteries in the GS+. No lithium-ion batteries are allowed.