Question
How to fix the mirrored/incorrect angle values in Dolphin?
Answer
If the Dolphin detector shows wrong gantry angles and it is sure that the detector was properly mounted and initialized, it is possibly caused by a wrong detector setting.
Using a pin, reset the Dolphin by holding the Reset button on the device and release after 5 seconds.
Click Start > All programs > IBA Dosimetry > COMPASS 2018 > Device Setup to open the Device Setup window, and check the Linac holder rotation as the following:
Elekta: 180°
Varian: 270°
To change the value, click the Change button, select the correct value and then click the Apply button.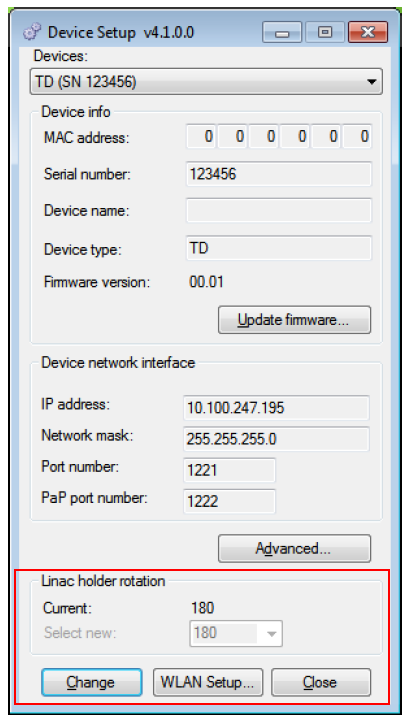 In Beam Commissioning > Detector Setup workspace, right-click the linac under the active detector to open the context menu and click View to open the Active Detectors dialog. Check the value in the Rotation box (correct value: "180" for Elekta and "270 cw" for Varian linacs),


If the value in the Rotation is not correct, close the window and right-click Detectors in Process and select Add new Detector Setup; the Detector dialog opens. Fill in the required fields.
For the Rotation, select:
Elekta: 180°
Varian: 270° cw
For the SDD, select:
Elekta MLCi2: 58.5 cm
Elekta Agility: 60.2 cm
Varian (TrueBeam and CLINAC): 63 cm