How to measure output factor in myQA Accept?
Absolute Point measurement is to measure an absolute dose at a given point. Consequently the output factor is calculated and displayed. The steps below show how to do so.
Step 1
Set up an Absolute Point measurement queue in Queue Settings.
Step 2
Select Absolute Point in Scan Type.
Step 3
In Basic settings tab, type in the measurement time and the coordinate of the measured point as shown below.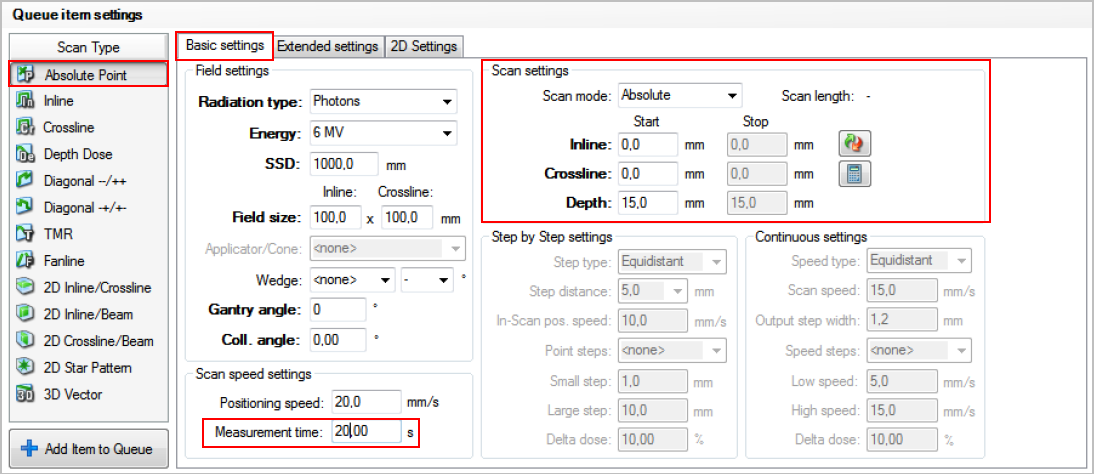 Step 4
In the Extended settings tab, type in a value in No. of measurements. The average of these measurements are used for calculation. After performing the measurement, the results are displayed in 0-D Data View.
Step 5
The Output Factor Table is displayed on the left-side (2) according to the selected parameters and Reference Field Size (1).
Step 6
Select parameters in the combo boxes under Table Parameters (the items in the list are taken from the data), type in the reference field size, and then click Update Table. The table will be refreshed.
On the right-side (3), the output factors of the square field sizes are displayed graphically. If you select Use reference field size from data, make sure that they have the same reference field size. Otherwise, select Set custom reference field size, and input your desired reference field size.