Question
I am performing scans in myQA Accept. Now I see the error "NaN" in the positioning panel and cannot continue my scans. What should I do?
Answer
If you see the NaN error your settings for the chambers you are using are not correct.
Step 1
Go to Common Settings.
Step 2
Go to Detectors.
Step 3
Check that the EPOM correction is ticket for photons and electrons (in case you use protons also for protons) and check that a value is set for the EPOM.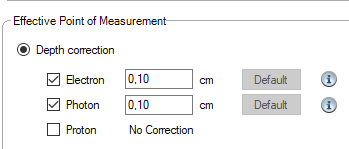 If you do not want to use a EPOM correction just type 0 in the field.
It is highly important that an EPOM correction is set (even though it is zero) once the Dept correction was ticket.
Step 4
Now the issue is solved. Go back to myQA Accept, select your chambers which have now an EPOM correction and start measuring.