Question
How can I ensure optimal settings and procedures to reach the best gamma comparison result between measurements and TPS?
Answer
When the comparison result between measurement and the TPS is not good, the below suggestions may help you improve the results:
On the Reference and Compare image selection
We suggest putting the image with lower resolution in the Reference panel.
Usually, measurement have lower resolution than TPS, thus we put the measurement image as Reference. But if you use myQA SRS, with the resolution of 0.4 mm, please put TPS measurements as Reference and myQA SRS measurement as Compare.
On output calibration
When you perform the comparison in absolute dose (cGy), the output calibration accuracy plays an important role in the result. The output calibration should be performed routinely. myQA Patient will remind you when the calibration is older than 3 months.
Besides, for the high dose rate SRS deliveries myQA SRS output calibration should be performed on ~70 % of max. dose rate for the best stereotactic QA results.
On angular correction
If you use the gantry angle sensor during the measurement, make sure the angular correction is performed correctly. If you are not sure, you can redo the test by clicking the Angle sensor button in the measurement bar.

Once your Gantry sensor is connected, please make sure correction is used via LUT- see next step.
On lookup table (LUT)
When delivering the QA plan, it is possible to keep the original gantry rotation or reset all gantry to 0°. If you keep the original gantry rotation, make sure the correct lookup table (LUT) is applied. The correct Lookup table can be selected in the measurement settings.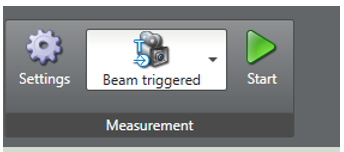 Calibration Tab: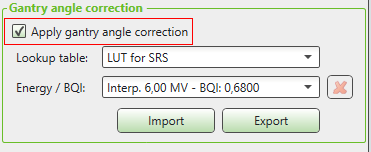 Once, you are correctly setup, you can see the green light on in front of Gantry angle correction in the measurement bar.
On TPS dose plan export
It is very import to verify the correct dose plan is used. The comparison result only makes sense when the measurement slice and the TPS dose plan slice is on the same page. Please make sure the correct slice on the TPS QA plan is selected before exporting the plan. In case you export a dose cube instead of a single plan, please make sure the correct slice is used for comparison.
On the Beam Quality Index (BQI)
When configuring your linacs in myQA Platform, it is very important to add the BQI according to the real situation. myQA Patients adapts the LUT according to your given BQI automatically and therefore influence the QA results.
The BQI definition in IBA Dosimetry LUT is performed according to IAEA TRS-398.
You can easily update the BQI value in myQA Platform - Equipment setup by clicking the Edit button below: