Question
How to get started with myQA SRS?
Answer
The myQA SRS Detector is a measurement detector for QA of SRS/SBRT treatments. The active field size is 120mm x 140mm, with a spacing of 400μm. It supports myQA Patients with 6/6FFF MV and 10/10FFF MV currently. Here are the steps to get started with myQA SRS.
Step 1
Installing myQA SRS Service.
In the myQA installer folder, you can find myQA SRS Service Setup.exe. Run it by using right-click on the file and "Run as Administrator", and follow the on-screen prompts.
If you receive a warning about "Unrecognized app" or "Unknown Publisher" when starting the installation, you can confirm to proceed. Please find details in this article:
What can I do about the "Unrecognized App" or "Unknown Publisher" warning?
To ensure optimal settings to facilitate stable network communication, please find a step-by-step description in the following article:
How to improve an unstable ethernet connection with the myQA SRS?
The default port of myQA SRS is 53535, if you want to change it, please refer to the myQA Platform user manual 7.3.9.3 myQA SRS Adapter Settings.
Step 2
Copy Factory Uniformity Correction File from the USB stick to your PC.
The Factory Uniformity Correction File is delivered on a USB stick together with the device. The corresponding filename is, DeviceData-[XXX].jdd1, where "XXX" denotes the identifier of the individual device (e.g. DeviceData-00-11-1c-04-55-1a.jdd1).
Please copy this file to the myQA installation directory:
C:\ProgramData\IBA Dosimetry\SBRTAdapter\Store
Step 3
Setup myQA SRS on the treatment table.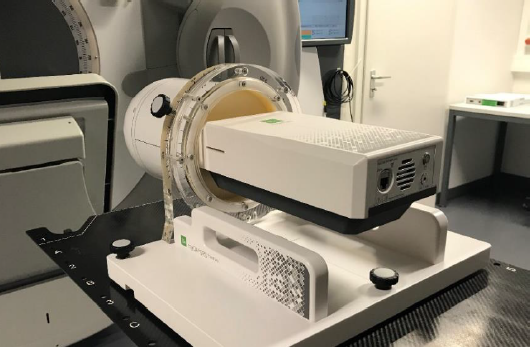 Please align the myQA SRS with the laser. There are alignment marker on both myQA SRS and myQA SRS phantom.
myQA SRS supports rotation inside the phantom. In order to ensure the correct LUT will be applied, please document the rotation inside myQA software.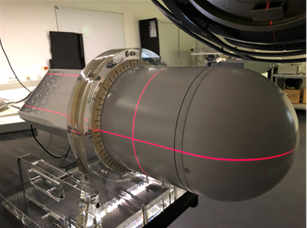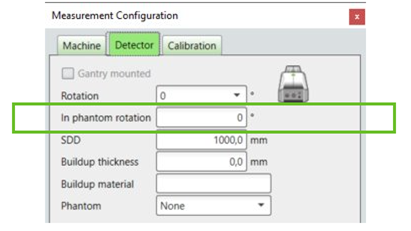 It is also possible to mount myQA SRS with different orientations towards the gantry. Please note this in myQA software. There are in total 4 options.

Step 4
Set up gantry angle sensor GS+ (optional)
We suggest 30min warm-up time.
Now it is ready for myQA connection and measurement.
Here is a video of the typical clinical routine workflow